Bundle includes:
1 Hybrid Pro Grappling Shorts 
1 Short Sleeve Dragon Rashguard
1 Black Grappling Spats
Made for the Competitive Grappler
Free Shipping for Purchases of $125+

Fast fulfillment and delivery from our Canadian warehouses.

Hassle-Free 30-Day Return Policy

Your satisfaction is our priority.
Hybrid Bundle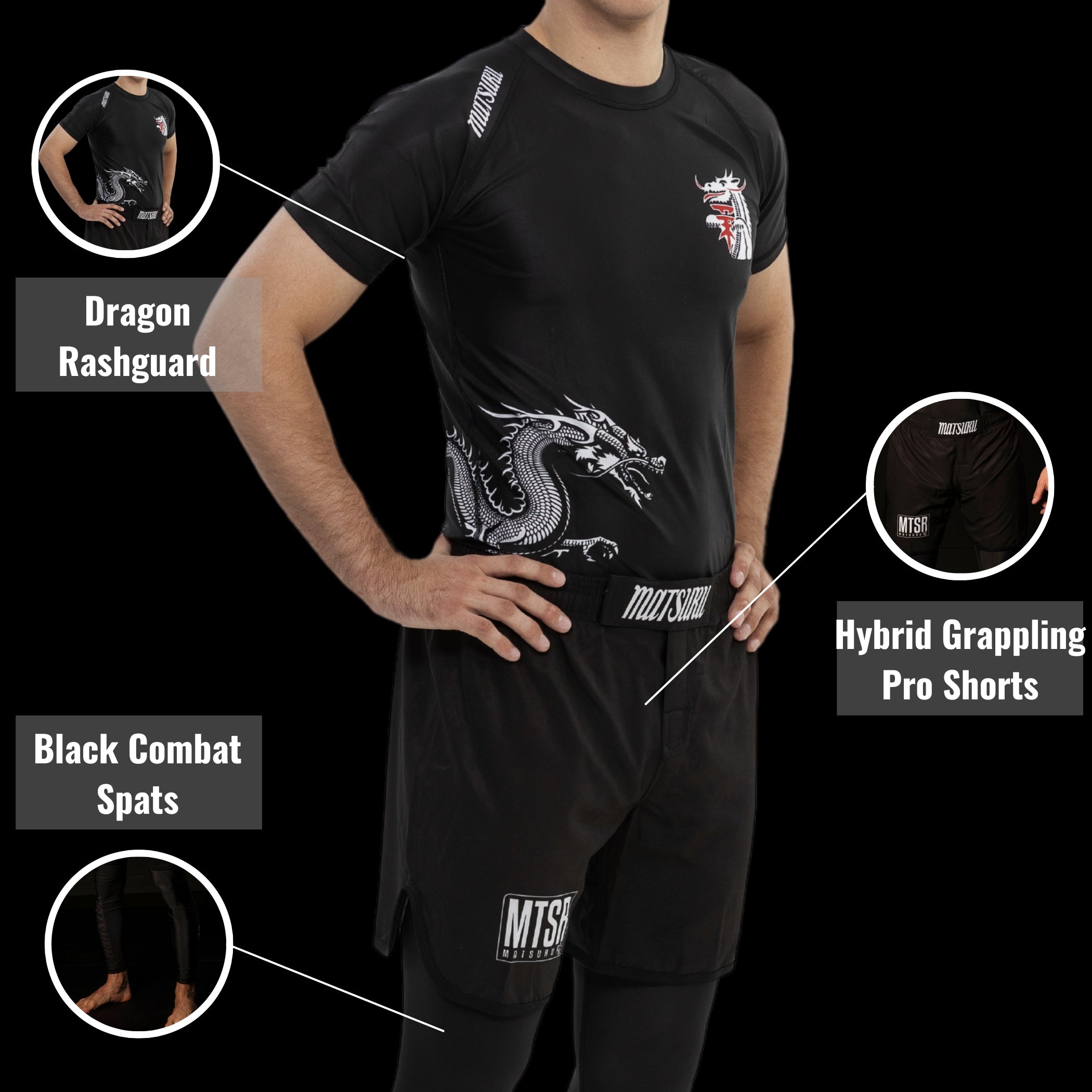 The Warfare No-Gi Bundle is a best seller since 2019.
Key Features:
Spandex: Made from a long-chain polymer called polyurethane, which is known for its ability to stretch significantly without losing its original shape. Spandex is commonly blended with other fabrics like cotton or polyester to add stretch and flexibility to clothing. Its unique properties make it a popular choice in sportswear, activewear, swimwear, and other garments where stretch and recovery are important.
Polyester: Known for its durability, wrinkle resistance, and quick-drying properties. Polyester fabrics are often lightweight, have good resistance to stretching and shrinking, and are easy to care for. They are widely used in various types of clothing, including shirts, dresses, and outerwear, as well as in home furnishings like bed linens and curtains. Additionally, polyester is often blended with other fibers to enhance specific characteristics such as breathability or moisture-wicking capabilities.
We recommend washing your rashguards and your shorts in cold water only. Do not bleach and do not iron.
All orders with a minimum cart value of $125 before taxes qualify for FREE SHIPPING with some exceptions. You may exchange/return your purchased items in its original packaging and with all tags within 30 days of purchase. Extra shipping fees will apply for the exchange or return. Please refer to our shipping/returns section for more information.
All of our no-gi gear come with a warranty of 1 year from the date of purchase. This warranty covers any defects in materials or workmanship.
Eligibility: This warranty is applicable only to the original purchaser of the gear. Proof of purchase, such as a valid receipt or order confirmation, must be provided to make a warranty claim.